These carrot cake muffins are soft, perfectly sweet and spiced, and filled with carrots, raisins, and walnuts! The combination of different flavors and textures are carrot cake PERFECTION. This recipe is the perfect addition to your Easter brunch and holiday baking plans!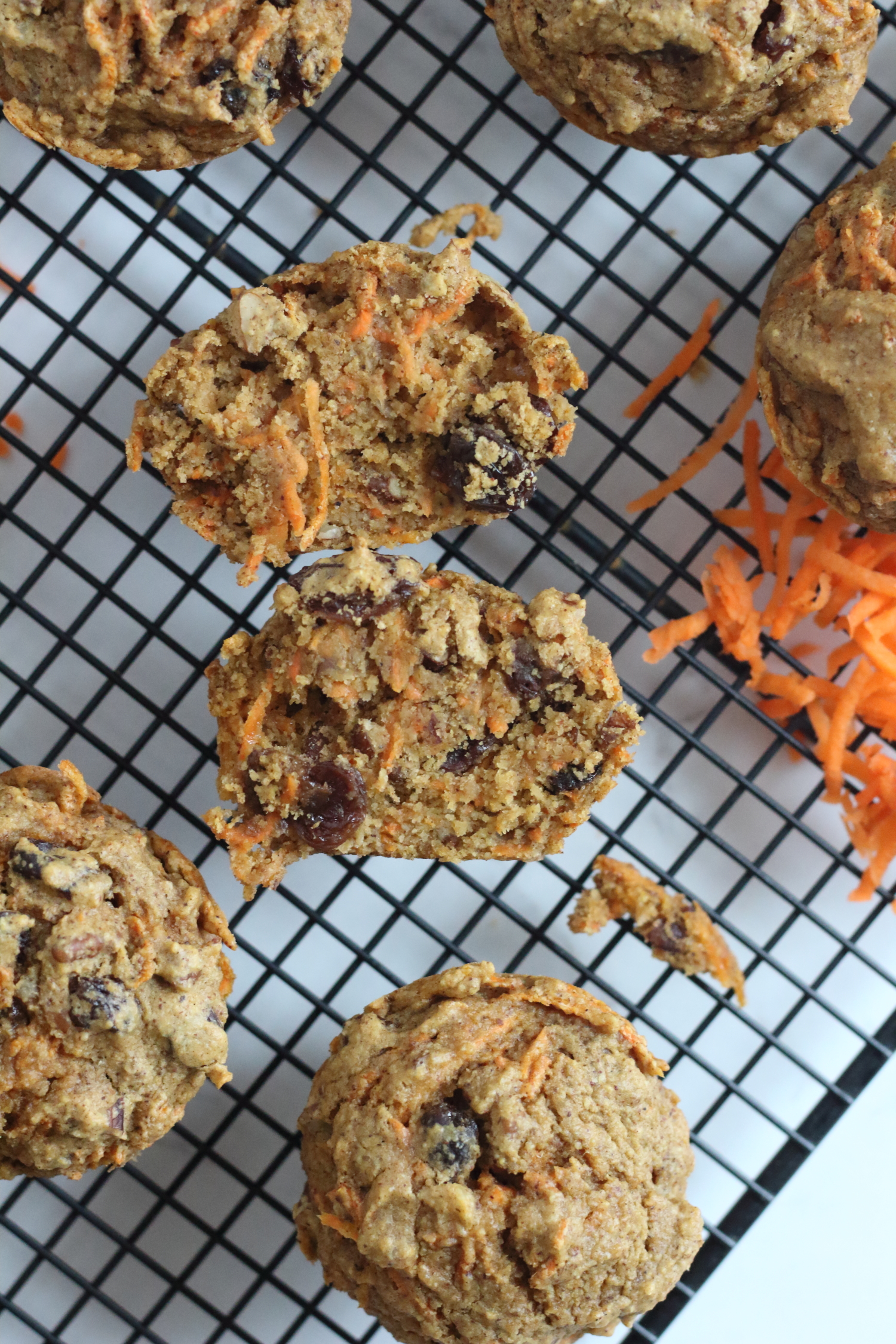 As much as I love chocolate (evidenced here and here, I have to say that I've been having quite the moment with carrot cake lately. I love cooking and baking based on the change in seasons. For example, I definitely focused my recipes around my garden produce in the summer with these zucchini fritters and this tomato soup. And let's not forget this AMAZING chocolate zucchini bread and these chocolate chip zucchini muffins! Clearly, I had an over-abundance of zucchini in my garden last year! Can anyone else relate? It seems to be an annual chronic problem haha.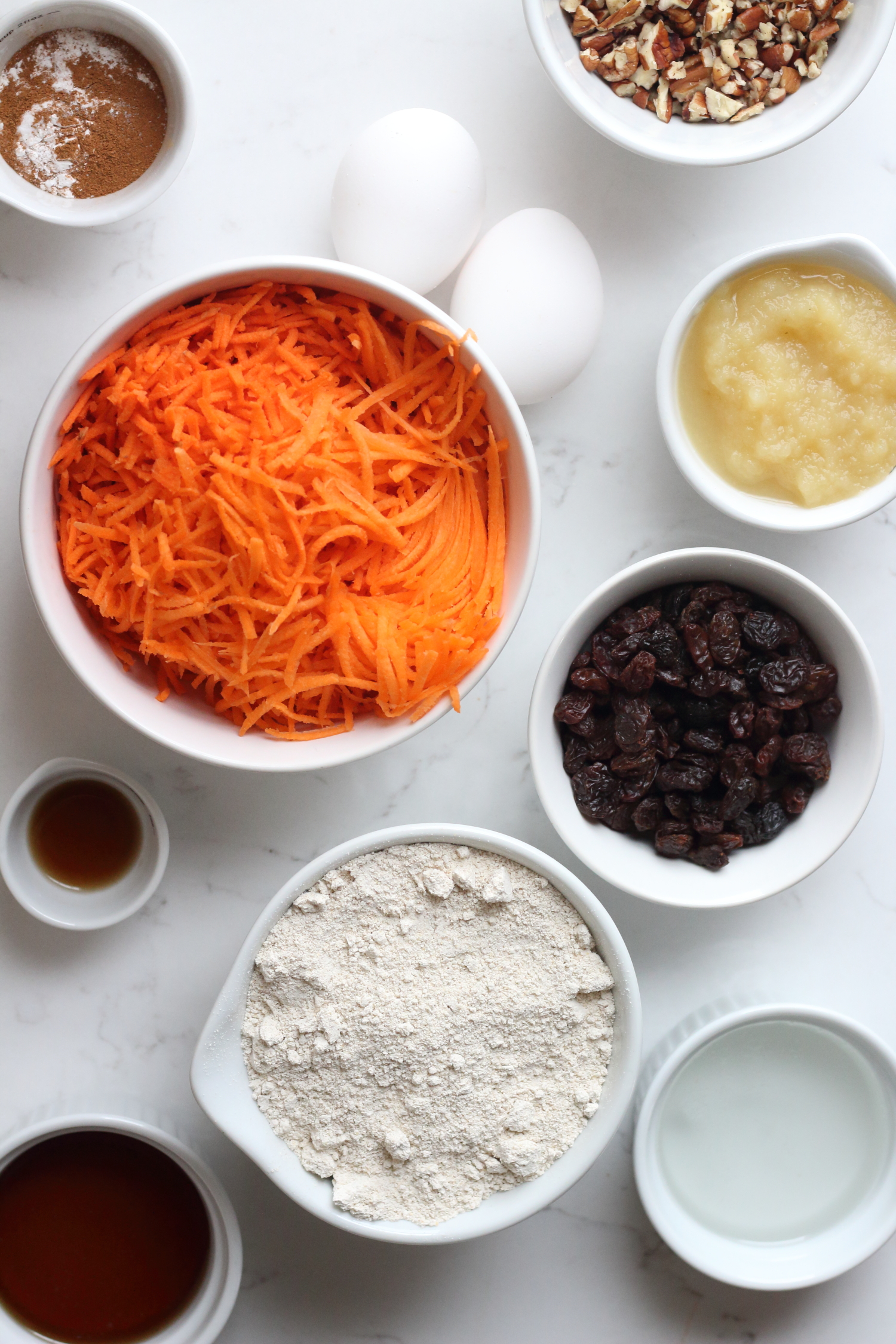 And then the fall was all about pumpkin and apple…like these pumpkin pie protein bars and these apple baked beans. Christmas brought these chocolate peppermint donut holes…and now with spring comes lemon and now finally carrot cake! These muffins remind me of these carrot cake breakfast cookies from last year as they have many of the same ingredients, but now in muffin form! Have you tried the cookies yet? In addition to making the breakfast cookies, I've also made this delicious paleo carrot cake as well as this no-bake carrot cake. Both recipes are highly recommended!!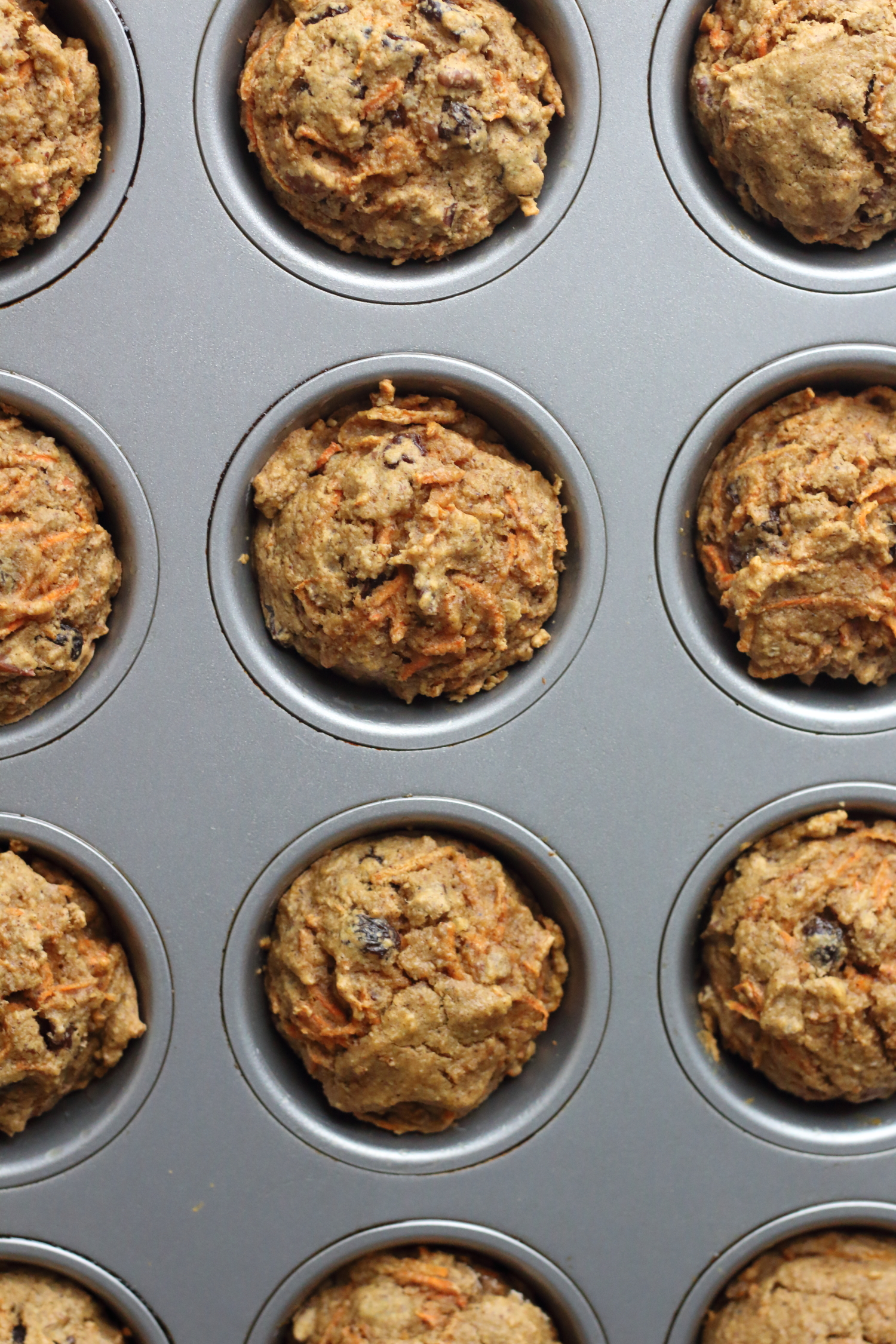 Apparently some recipes for carrot cake keep it pretty basic with just spices and carrots. However, like the aforementioned cookies, I personally think adding nuts and raisins in carrot cake recipes is a MUST. The chewy burst of sweetness from the raisins and subtle nutty crunch and flavor from the walnuts or pecans just add so much to this recipe! But as always, let's discuss the ingredients and some substitution ideas: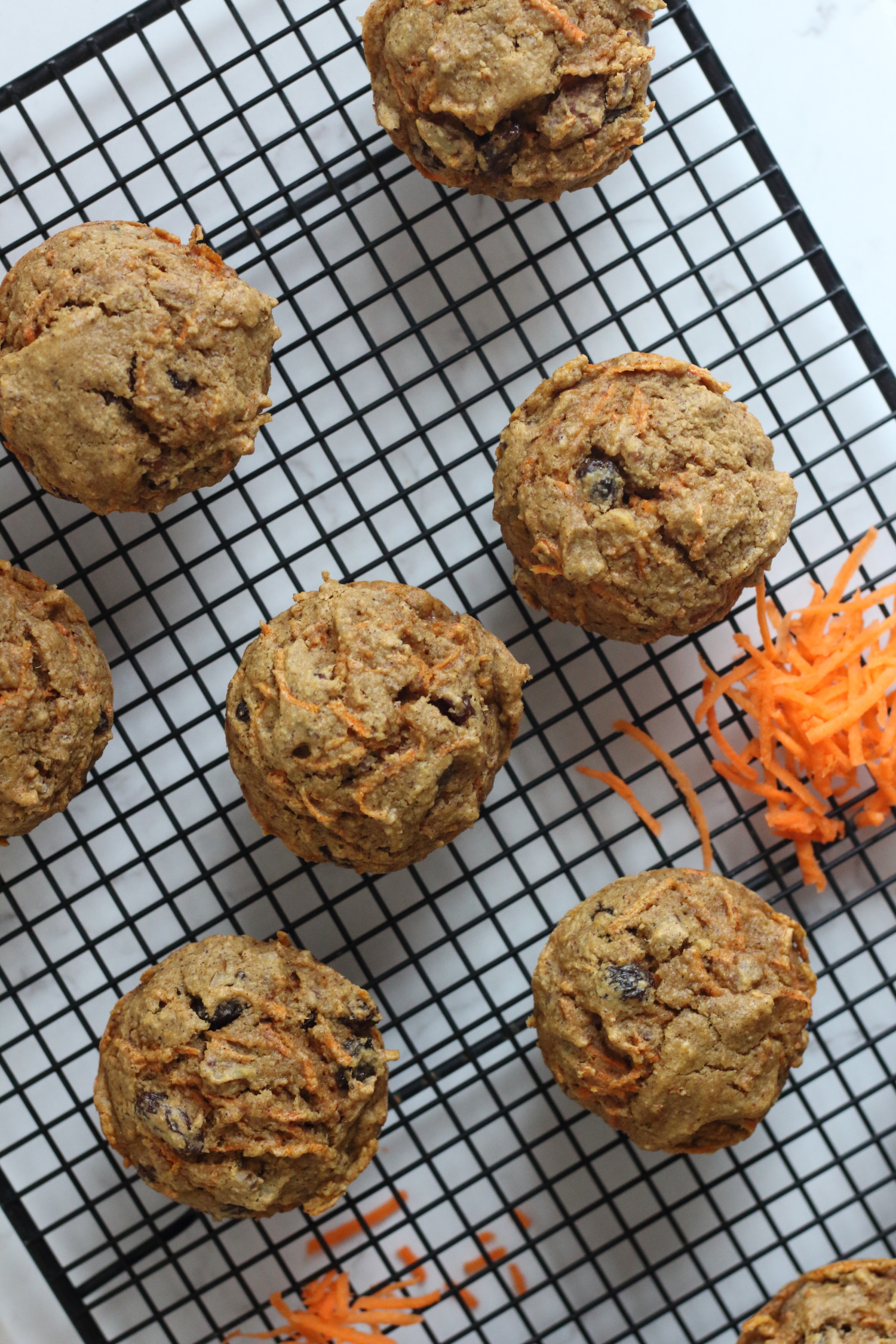 Ingredients and Substitution Ideas
Oat flour.
As you can likely tell from many of my recipes, oat flour is one of my all-time favorite flours to bake with. I love the texture and flavor…and not to mention it's an extremely cheap flour to work with as well! Plus 100% whole grain, naturally gluten free…what's not to love?! Oat flour (made simply from oats) is naturally gluten free; just make sure you are using certified gluten free oats if you need to be careful about possible cross-contamination. However, I have also tested this recipe using white whole wheat (or all-purpose) flour, and I'm happy to report it worked great! You will need 1.5 cups of flour total. The oat flour has a slightly more dense texture, whereas using the white whole wheat (another one of my favorite flours as it's 100% whole grain, yet is so similar to white all-purpose!) has a softer, fluffier texture.
Applesauce.
Applesauce helps provide moisture, structure, and sweetness to these muffins!
Coconut oil.
I have also tested melted butter and canola oil. You can use any type of oil (or butter!) in these muffins; they all work well.
Maple syrup.
I love maple syrup with cinnamon and warm spices…you could likely substitute honey or agave, but I have not tried these options. I'd be a bit hesitant to use a granular sugar here, as the liquid sweetener provides additional moistness. Your muffins could be a bit dry if you replace it!
Eggs.
If you want/need these muffins to be vegan, I have also tested this recipe using 2 flax eggs (simply 2 tablespoons ground flax mixed with 5 tablespoons water and allow to "gel"). I honestly couldn't tell any difference in the final product when using eggs versus flax eggs, and love the option to use either!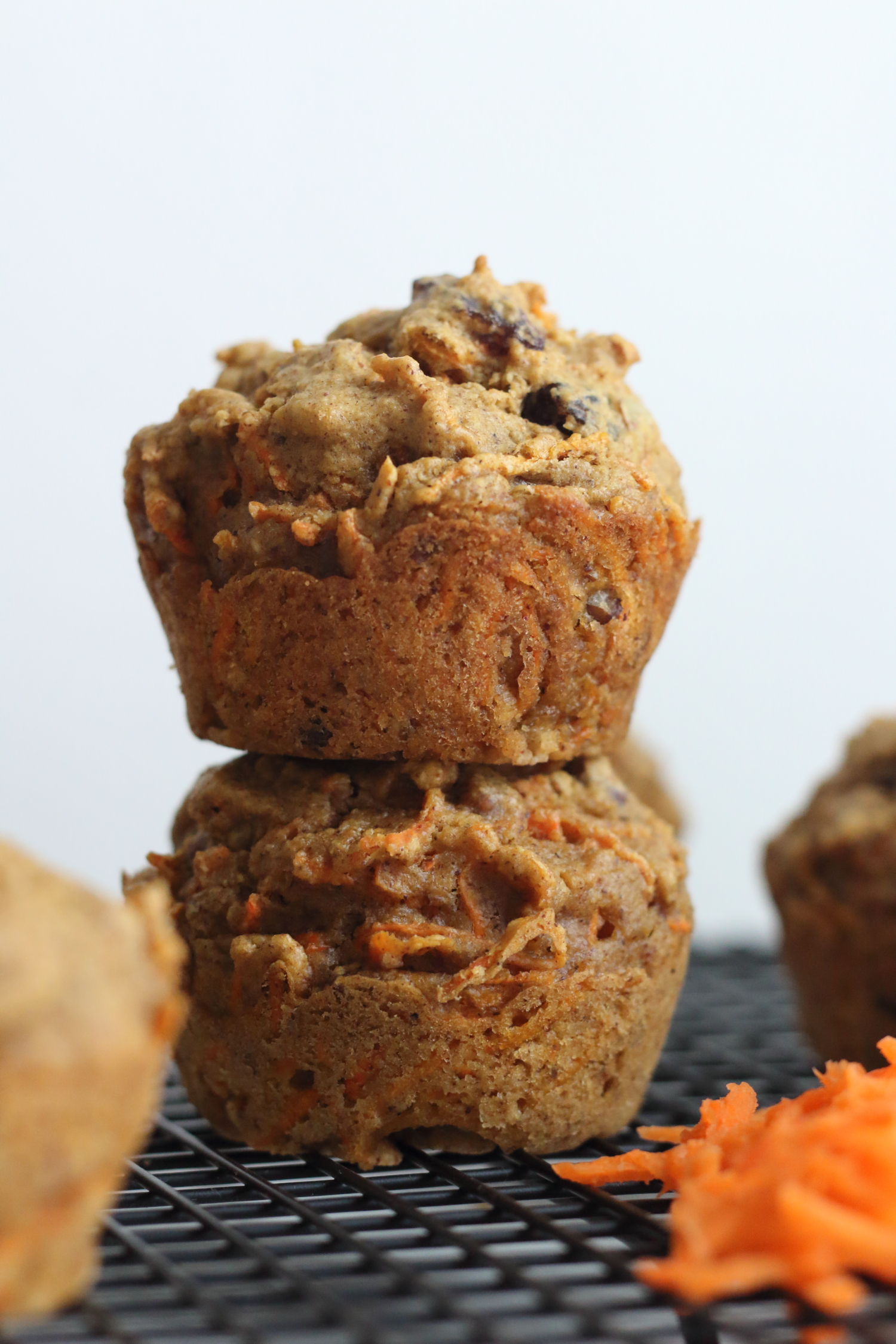 Carrots.
These muffins pack in TWO whole cups of raisins! Obviously, carrots are needed in a carrot cake recipe, and similar to zucchini, the shredded carrots add moisture to the muffins. Fun fact: in elementary school my peers used to tell me that my hair was red because I ate too many carrots and I wasn't quite sure if I should believe them or not.  😂 (I probably brought carrots in my lunch almost every day; to this day carrots remain one of my top favorite vegetables). In my defense, I was probably like only like 7 years old…haha. 🤷‍♀️
Raisins.
As I've previously mentioned, I personally don't think a carrot cake is complete without raisins. BUT, I know some of you don't feel this way…so feel free to omit if you want! You could also use dried cranberries or chopped figs or dates if you want to try that.
Nuts.
I used pecans, as that's what I had on hand at home. I personally also think walnuts would be a great option here. Same as the raisins, I'm sure this ingredient could be omitted if needed!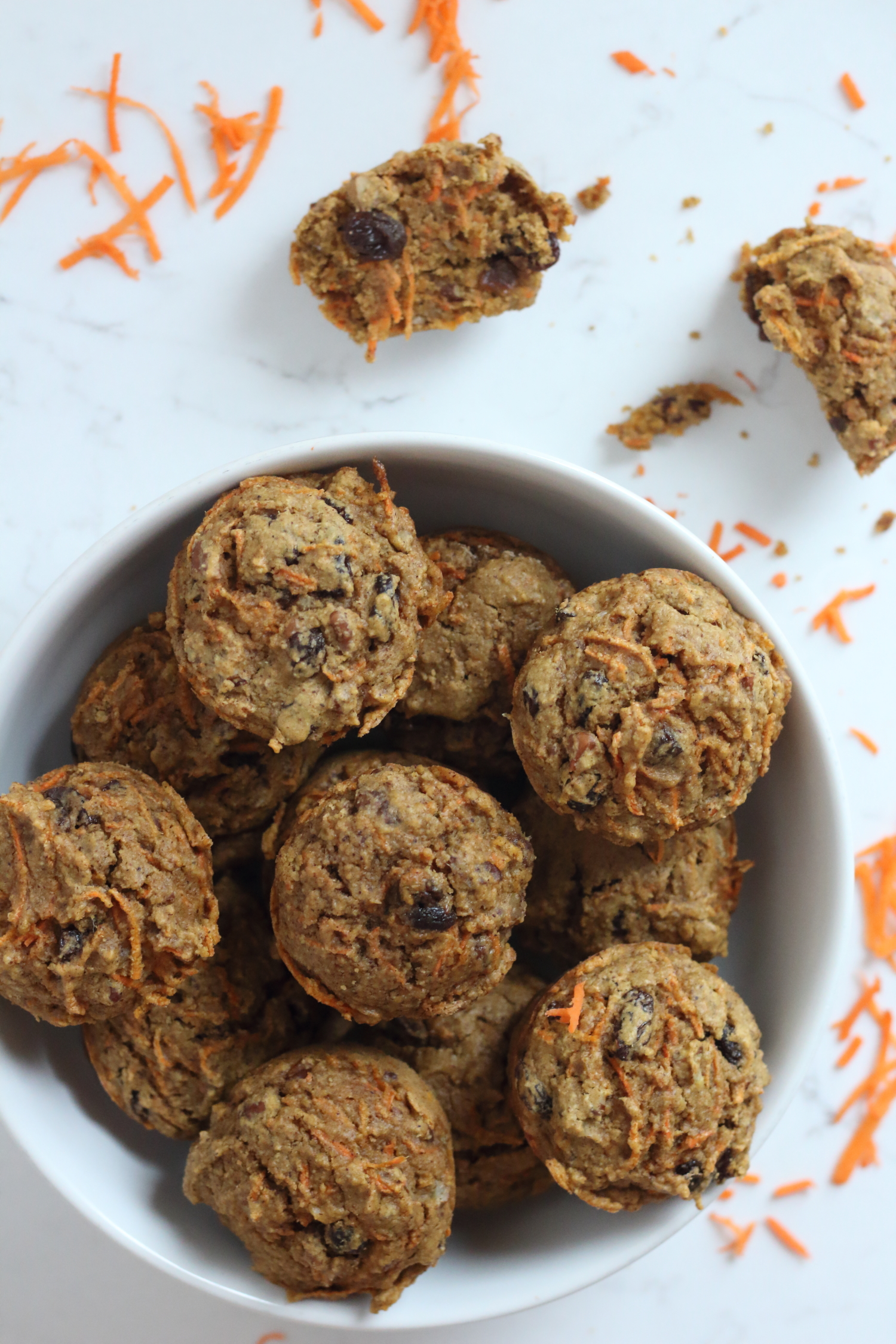 Pro tip: while these muffins taste delicious warm, they honestly taste just as good (if not better!) the second day! The flavors are more pronounced. Also…highly recommend these muffins topped with cinnamon sugar butter or almond butter…yum! 🙂 As always, I'd love to hear from you if you try this recipe!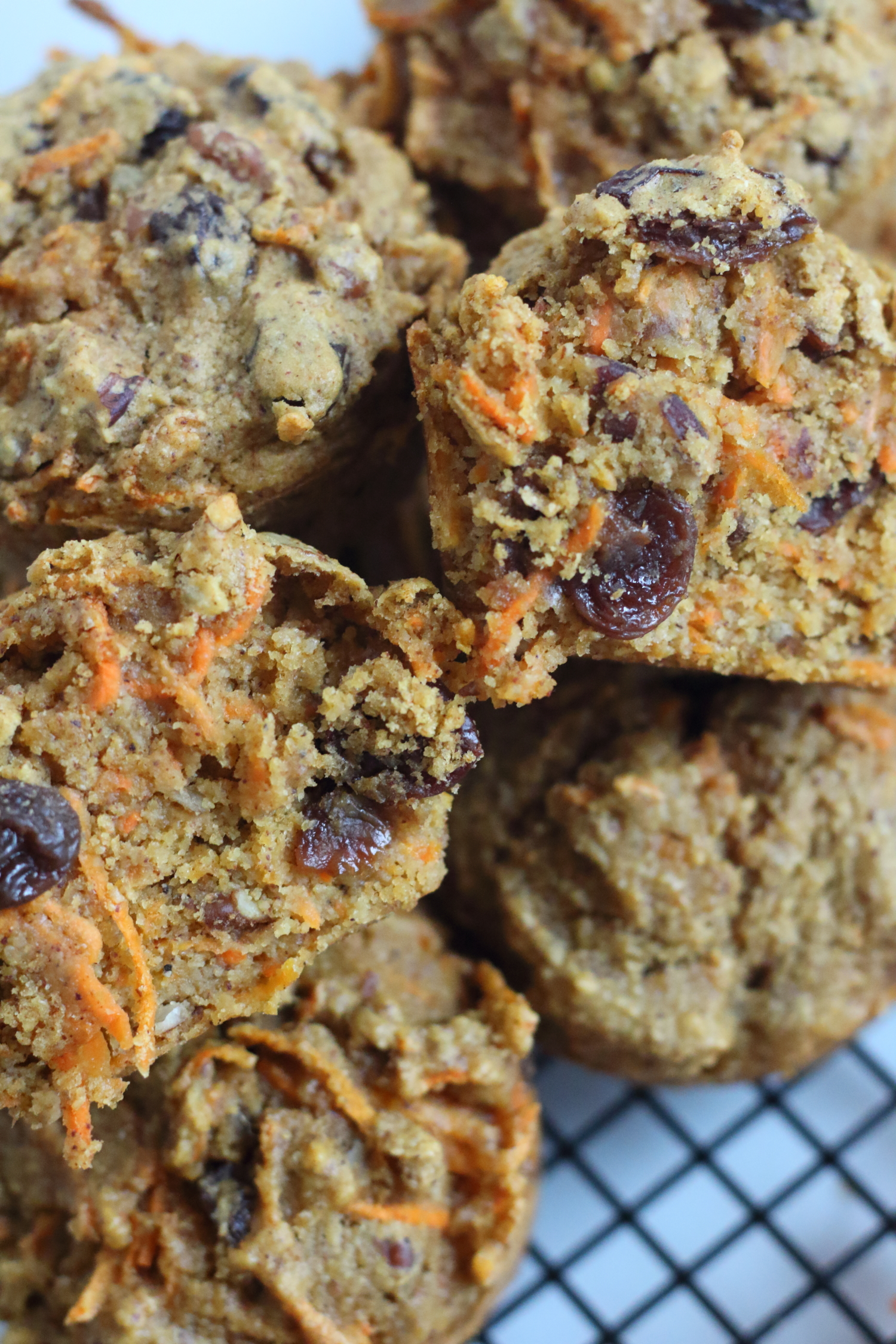 Carrot Cake Muffins
These carrot cake muffins are soft, perfectly sweet and spiced, and filled with carrots, raisins, and walnuts! The combination of different flavors and textures are carrot cake PERFECTION. This recipe is the perfect addition to your Easter brunch and holiday baking plans!
Recipe type:
Breakfast, Snack
Cuisine:
Whole-Grain, Gluten-Free, Vegan
Ingredients
2 cups oats, ground into oat flour (6.5 ounces, about 1.5 cups) OR 1.5 cups white whole wheat OR all-purpose flour
½ teaspoon salt
½ teaspoon baking soda
1 teaspoon baking powder
2 teaspoons cinnamon
½ teaspoon nutmeg
2 eggs OR 2 flax eggs (2 tablespoons ground flax + 5 tablespoons water)
1 teaspoon vanilla extract
¼ cup maple syrup
¼ cup coconut oil, melted OR butter, canola oil, etc.
½ cup applesauce
2 cups shredded carrots (7 ounces)
½ cup raisins
½ cup chopped pecans or walnuts
Instructions
Preheat oven to 350 degrees and spray a muffin tin with nonstick cooking spray. Set aside.
In a large bowl, mix dry ingredients together: oat flour, salt, baking soda, baking powder, cinnamon, and nutmeg and stir until combined.
In a separate smaller bowl, mix together wet ingredients: eggs, vanilla extract, maple syrup, oil or butter, and applesauce.
Add wet ingredients to flour mixture and gently stir until incorporated. Fold in shredded carrots, raisins, and nuts.
Using an ice cream scoop, evenly divide batter among 12 muffin tins.
Bake at 350 degrees F for about 20-24 minutes, or until toothpick comes out clean and tops slightly spring back when lightly touched. Mine were perfect around 22 minutes.
Makes 12 muffins.
Store leftover muffins in refrigerator for optimal freshness. These also freeze well for more long-term storage!